12/17 Update Notice
12/17/2021
Hello, golfers!
We are Shot Online: Golf Battle.

Here is the information regarding the 12/17 (Fri) update.

■ Update
1. The 'Merry Christmas' event has been added.
- Event schedule: From 12/17/2021 (Fri) after the update, until 12/31 (Fri).
- If you win the tour during the event, you can get an exclusive Christmas Victory Case, and you can also collect tokens and exchange them for various items.
For more details, please check the Merry Christmas event notice.
[Go to Christmas Event notice]



■ Improvements


1. The main replay screen has been improved.
- The main screen of the replay menu has been changed from 'replay' to 'broadcast'.
2. The number of trophies acquired/decreased according to the number of bets and the number of victories or defeats on the tour will be changed as follows.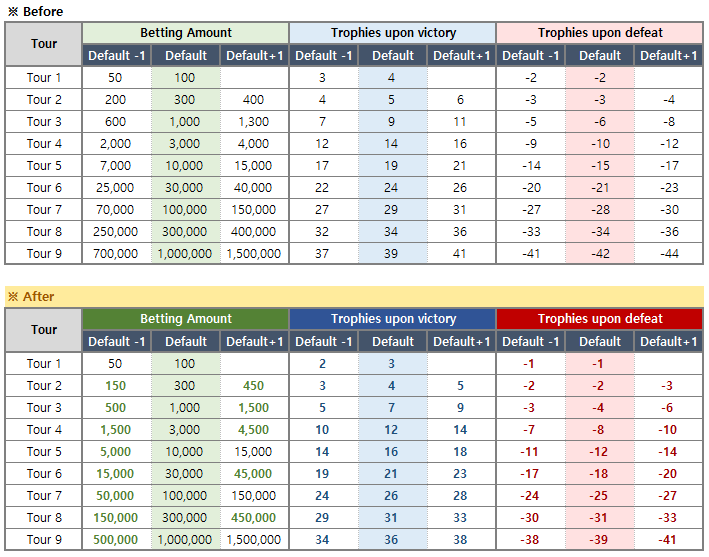 ■ Bug fixes
1. The issue where the reset time would not refresh immediately if you were logged into the game before the AD&SALE Reward reset time has been fixed.

2. The issue where the matching button was not pressed or the matching was not performed properly during Survival has been fixed.

3. The issue regarding camera positioning and UIs errors when re-entering the game due to network disconnection or forced termination during a tour has been fixed.

4. The issue where the SALE reward list was at times not updated when purchasing products in AD&SALE has been fixed.

5. The issue where arrow buttons in the package pop-up window did not work properly has been fixed.

6. The issue where badges were not immediately updated in the badge list after obtaining achievement badges has been fixed.

7. The issue where the ball appeared to be split into two after a play re-started from the Tee Shot due to an O.B or water hazard during the first stroke has been fixed.

8. The issue where the guideline looked different depending on the camera distance (showed as a dotted or solid line) has been fixed.


We hope you have a great time playing Shot Online: Golf Battle.
Thank you.

- Shot Online: Golf Battle Team -